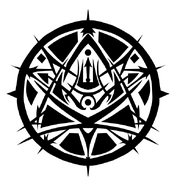 Antecantamentum (stylized as ANTECANTAMENTVM, also goes by "Ante" for short) is an American Symphonic Black Metal band from Long Beach, California. The roots of Ante go back to the band before this known as Astral Pit which was formed in 2009 by Xokoyotzin and Ricardo. Ante was a solo side project but eventually the two bands merged into Antecantamentum. As of August 2013, Antecantamentum is a solo project again however all the members have formed a new band with a different direction. The debut LP "Zerstörung" was released on October 25, 2013 and the second eponymous LP "Antecantamentum" was released on September 25th, 2014. A album currently titled "Halcyon Days of Melancholia" is currently in production with a tentative autumn/winter 2015 release.
Xokoyotzin - All instruments/Vocals
Former Members
Joseph - Lead Guitar/Vocals
Jacob - Bass/Vocals
Kyle - Keyboard
Ricardo - Drums
Discography
Edit
Ad blocker interference detected!
Wikia is a free-to-use site that makes money from advertising. We have a modified experience for viewers using ad blockers

Wikia is not accessible if you've made further modifications. Remove the custom ad blocker rule(s) and the page will load as expected.