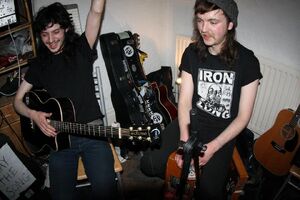 James picked up a guitar in post-breakup depression and wrote a lot of sad songs about it. Now he gets sad but trys to stay rad.
Crywank is huge on /mu/ especially among the angsty female members for his boyish charm and gut wrenching lyrics.
He lives in Manchester, England and plays there very frequently. The albums deal with themes of depression and worthlessness, often being very upsetting or close to home for some listeners. 
All of his music is available online for free. He's very poor and doesn't wash often because of it. Recently he got his friend Dan to hit a box while playing to add a precussive element. He's also started learning fingerpicking and more complex melodies, while still having no theoretic knowledge at all.
The name originates from one of James friends nicknaming him it due to his emotional displays, it can also be considered a play on "tearjearker". His mother tells her friends he's called Tearjerk.
Discography (All James's Music is Free)
Edit
Demo 2010(2010)
James is Going To Die Soon Demos   (2010)
James Is Going To Die Soon (2010)
On The Road to a Very Bad Place(2010)
I Daren't Call This Stoner(2011)
Narcissist On The Verge Of A Nervous Breakdown (2012)
United By Hate (Split with The Anarchist Pizza Society) (2012)
Tour Demos 2013 (2013)
Tomorrow is Nearly Yesterday and Everyday is Stupid (2013)
Don't Piss on Me, I'm Already Dead (2016)
Egg on Face. Foot in Mouth. Wriggling Wriggling Wriggling. (2017)