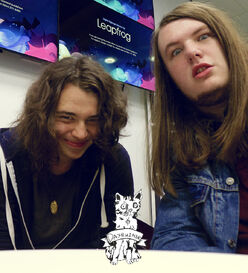 Dayruiner is a folk punk band from manchester that make silly music and enjoy neatly folded clothing.
Their lyrical themes deal generally with things that they notice in real life, or their friends and their problems with thier friends. Often leading to hostile lyrics over seemingly cheery and basic chords. They don't have much skill, but they try.
Their frontman, Zak Hill is also an absolute greasemonkey
Not Suitable For Vegitarians 
Discography
Edit
Life In Slow Motion/Dayruiner Split - October, 2013
Bandcamp - http://dayruiner.bandcamp.com/
Facebook - https://www.facebook.com/DayruinerManchester
Tumblr - http://dayruinermanc.tumblr.com/
Ad blocker interference detected!
Wikia is a free-to-use site that makes money from advertising. We have a modified experience for viewers using ad blockers

Wikia is not accessible if you've made further modifications. Remove the custom ad blocker rule(s) and the page will load as expected.