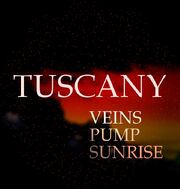 Tuscany is a psychedelic pop artist from Liverpool, UK. He released one EP in April 2013, Veins Pump Sunrise. He makes extensive use of drum loops and effects pedals with electric piano and guitar. He has an upcoming EP for release in August 2013 called Augury.
Veins Pump Sunrise
Edit
1. Everywhere The Glint Of Gold - 6:04
2. Three Fingers - 5:54
3. Snakebite - 4:08
4. Nocte - 4:19
soundcloud.com/tuscany-3
tuscany.bandcamp.com
Ad blocker interference detected!
Wikia is a free-to-use site that makes money from advertising. We have a modified experience for viewers using ad blockers

Wikia is not accessible if you've made further modifications. Remove the custom ad blocker rule(s) and the page will load as expected.