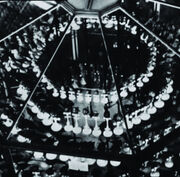 Zijnzijn Zijnzijn! is an ambient/drone/post rock/shoegaze solo guitar project from Cincinnati, Ohio. 
Discography 
Edit
Wordwounder - debut full length album
8.7.2013 - long-form piece for Somehow Ecstatic Record's One Day series
Demos - early recordings. 
"I quite enjoyed the Demos release, but Wordwounder just blew it out of the water. This is a record I feel oddly compelled to return to despite its sheer length. The tracks develop slowly and as you become enveloped in the drones, something will change and draw your attention. Intense and passionate while remaining experimental at the core, Wordwounder is a fantastic, if a bit long, debut. 8/10" - Logan Archer
Ad blocker interference detected!
Wikia is a free-to-use site that makes money from advertising. We have a modified experience for viewers using ad blockers

Wikia is not accessible if you've made further modifications. Remove the custom ad blocker rule(s) and the page will load as expected.